Welcome to the first Fields & Fantasies book club feature. Each month, in collaboration with my wonderful co-host Diana of Strahbary's Fields, we'll pick one book to read and discuss. Our inaugural pick is Megan Abbott's The Fever: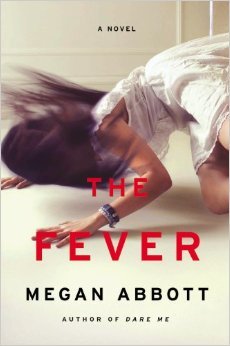 The panic unleashed by a mysterious contagion threatens the bonds of family and community in a seemingly idyllic suburban community.
The Nash family is close-knit. Tom is a popular teacher, father of two teens: Eli, a hockey star and girl magnet, and his sister Deenie, a diligent student. Their seeming stability, however, is thrown into chaos when Deenie's best friend is struck by a terrifying, unexplained seizure in class. Rumors of a hazardous outbreak spread through the family, school and community.
As hysteria and contagion swell, a series of tightly held secrets emerges, threatening to unravel friendships, families and the town's fragile idea of security.

Something is happening to teen girls, and it's very, very bad.
First it's Deenie's best friend, Lise, who suffers some sort of seizure in the middle of class — and whose greatest worry is whether everyone saw. (They did). Next, Deenie's almost-best-friend Gabby has a spell of some sort in the midst of an orchestra performance. And then more, and more, and more. Is it an epidemic? Is it mass hysteria?
In The Fever, there are many questions, but not so many answers.
Reminiscent both of The Crucible and Mean Girls, The Fever shows the damage done to girls as they enter and transition through the perilous teen years. For Deenie and her friends, the change from unformed, bright innocents to girls who attract boys' eyes and know it is fraught with physical and emotional dangers.
They revel in the changes in their own bodies, but are undermined by the food provided by family. They delight in their power, but can be brought low by the looks or oversights of boys. They hunger for attention, but don't know what to do with it once they get it.
And as we see through the eyes of Deenie's brother Eli, the girls become a mass of indistinguishable sexualized beings. Eli is a protective big brother, cherishing his younger sister and defending even her friends from predatory eyes — and yet Eli is a total hound toward every other girl in school, having no qualms about inviting adoring girls (he's a big hottie) over for late-night booty calls and then sending them on their way. The girls are faceless and interchangeable to Eli and his friends: They're sexy, they're available, and they're easily forgotten.
The girls in The Fever are all damaged, one way or the other. Of the characters we meet, all have deficiencies in their home lives — bitterly divorced parents, no parents, irresponsible guardians, even a mother who survived a vicious assault by the father and bears horrific scars as a constant reminder. The environment, too, is literally toxic — the lake is an unnatural emerald green and was declared unsafe for swimming years earlier. The school itself is later found to have all sorts of deadly and dangerous substances in its walls and its grounds.
So what's making the girls sick? Perhaps everything. Hysterical parents initially blame the mysterious outbreak on the HPV vaccine that was administered to all girls the previous year — but when that proves to be a red herring, other scapegoats must be found. Suspicious eyes turn to Deenie, one of the few who isn't sick. Does that mean she's a carrier? Is she the local version of Typhoid Mary?
Deenie is devastated, not just by her friends' illnesses, but by the shock of discovering the secrets lurking behind the scenes in the life she thought she knew.
I found The Fever to be a compelling read, but I couldn't quite decide how I really felt about it. In parts, it felt like a mystery to be solved, sifting through clues, unraveling stories that do and don't make sense. On the other hand, it's very much an atmospheric piece. There's a sense of doom and misery throughout the book. None of these girls are happy, and they all suffer, one way or another. It's all quite dismal, and at times, it's practically suffocating.
And yet, I couldn't look away. Perhaps it's the book version of a car crash on the highway. You know bad things are happening, and yet you stretch to get a glimpse just the same. Towards the end, as the lies and secrets unravel, the story becomes more straightforward and I found myself enjoying it more. The narrative in most of the book weaves between different points of view, but eventually, plot seems to matter more, and I could not wait to get answers.
So yes, by the end, there is a solution of sorts — but not everything is easily explained. The girls of the town may be recovering, but they'll never recapture the innocence of assuming oneself to be safe. As a study of what it means to be a teen girl in America, The Fever is very frightening indeed.
___________________________________
For another view, check out Diana's review here.
And now, for a change of pace, a Q&A between Diana and me. Warning: SPOILERS from this point forward. Proceed at your own risk!
Lisa: So many of the girls in this books seem like a "type". Which, if any, felt more original or unusual to you?
Diana: They didn't really feel original to me. It was the cliche good girl caught in the middle, the meanest of the mean girls and the girl that wanted to be liked. Then for the mothers it felt like you had the absentee, the clueless one and the overprotective one. Nothing all that original.
Lisa: I agree [with what you said in your review] that Tom was a decent character. What do you think about the book's portrayal of parents in general?
Diana: Overall I think that the parents were clueless as to what was going on in their kids lives. Perhaps from a teens' perspective they are but I would think that the parents would have some idea. Do you think that there was anything that the parents could have done to be more involved with their children?
Lisa: I thought Tom was as involved as possible for a parent of high school teens, which just goes to show that even great parents probably have no idea what's really going on their kids' lives and inside their kids' heads. I mean, his son is bringing girls home for sex right under his nose, and he just says hi as they walk by! The other parents all seem very caught up in their own nonsense. Everybody wants to be a good parent, I thought, but nobody really succeeds.
Lisa: Did you buy the explanation for the epidemic? Do you find a mass event like this credible?
Diana: Absolutely. Looking back through history there are a number of cases like this happening throughout the world to teenage girls. My favorite happening in 2006 in Portugal. It was dubbed the Strawberries with Sugar Virus. A number of adolescent girls became sick, their symptoms couldn't be explained. As it turns out, there was a very popular show called Strawberries with Sugar and there was a girl on the show that had an illness with those symptoms. Portuguese officials later determined it was a case of mass hysteria based on the television show. My only problem with the premise is the guilty party at the beginning of everything being a victim of mass hysteria.  What do you think?
Lisa: Yeah, I hadn't thought of it in those terms, but you're right. It's like she couldn't deal with her own guilt, so she followed in the victim's footsteps, and then the whole thing blew up from there. It seemed to be saying that each of these girls had such problems in their lives that becoming a victim of the epidemic was a way out for them. Maybe a way to get the attention they'd been missing? Or a way to physically embody all the turmoil and stress of their lives?
Diana: I like the attention train of thought. It could be one of those cases where a lie just takes on a life of it own…
Lisa: What did you think of the role of social media, cell phones, and other plugged-in technologies in this story?
Diana: It was very relevant. I know I am addicted to my electronics and so many teens are social media obsessed. I think that part felt the most realistic to me.
Lisa: I agree. It made me realize how much harder it must be to be in high school right now than when I was that age. In my day, if you did something embarrassing, people might talk and ridicule, but then it would blow over. With this culture of selfies and everything always being shared, your worst moments can live forever. In The Fever, the girls who had seizures not only broke down in school — they then had to live with knowing that their awful moments would be seen all over YouTube.
Diana: Oh God, I can only imagine the trauma I would have had to deal with if my fellow high school students had social media. There are some things in life that are just best left forgotten.
Lisa: Did the high school setting in The Fever feel realistic to you? 
Diana: There were moments that it felt realistic.  Like with the day to day school stuff. But some of it felt "Saved by the Bell"-esque. Like would the sports star also be in the school band? How many of the cool kids did you know who played in band?
Lisa: True. But I did think the shifting alliances among the girls was pretty true to life — the fact that Deenie thought Gabby was her best friend and that Skye was just an annoyance hanging around, not seeing that Gabby and Skye had a much stronger connection or what the truth of her friendship with Gabby was all about.
Lisa: Is there anything the author could have done differently that would have made this book work better for you?
Diana: Better characters for sure. I so wanted this to be my dirty little indulgent book of the summer. I think if she dug deeper and went beyond the clichés it would have been so much better.
Lisa: It's been fun talking books with you! Sounds to me like The Fever was not a huge success for either of us (although I liked it more than you did), but it still did give us some things to think about!
Diana: I have really enjoyed our discussion as well! Yeah, I can't say Fever was my favorite read of the year so far but it has created some great discussion. I have already started reading our book for August: The Museum of Extraordinary Things.
_________________________________________
Updated to add:
Fascinating article by Megan Abbott on the real-life case that inspired The Fever: http://www.huffingtonpost.com/megan-abbott-/dont-look-now-social-medi_b_5534200.html
Next for Fields & Fantasies:
Join us for our August book, The Museum of Extraordinary Things by Alice Hoffman
_________________________________________
The details:
Title: The Fever
Author: Megan Abbott
Publisher: Little, Brown and Company
Publication date: June 17, 2014
Length: 320 pages
Genre: Contemporary fiction
Source: Review copy courtesy of Little, Brown and Company via NetGalley