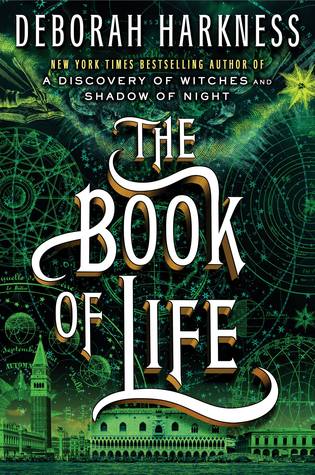 Deborah Harkness's wildly popular All Souls trilogy wraps up with The Book of Life, published earlier this month and debuting at #1 on the New York Times bestseller list.
For anyone who has read the first two books in the series, A Discovery of Witches and Shadow of Night, it's a given that The Book of Life is a must-read.
My quick thoughts on this book:
First of all, it's long. That may sound like a stupid thing to point out, but not only is the book 561 pages — you really feel all of those pages while you're reading. Or at least, I certainly did.
I'm a fast reader, and spending over a week on a book is unusual for me. The Book of Life was a 10-day push. Granted, it was a busy couple of weeks for me, but still: If I was loving this book, I would have found the time to read more. I'd say that it wasn't until I got to about the half-way mark that I started to get that great swept-away feeling; up to that point, it felt more like work.
The opening section of the book is crammed full of genealogy, vampire law, and oodles of characters from all over the previous books converging on main characters Diana and Matthew. Re-reading the first two books — or finding a good detailed synopsis — is essential in order to enjoy The Book of Life. In fact, by the time I got to page 70, I realized that I needed a refresher, so I spent a couple of days looking up odds and ends, then restarted The Book of Life from the beginning. Luckily, it made a lot more sense with the details sharper in my mind.
There's nothing particularly wrong with The Book of Life. It's a wrap-up book, and it does what it needs to do: Ties up all the story threads, builds to a climax, and provides a conclusion to the trilogy that seems fitting. What it doesn't have is the depth of characters and emotions that we've seen in previous books. In A Discovery of Witches, we fall in love with Diana and Matthew and their world. It's new and enchanting; we feel mesmerized by the romance and danger. In Shadow of Night, it's easy to get swept up in the historical setting and the challenges it poses for our beloved characters.
But in The Book of Life, it's go time, all the time. People are constantly coming and going. There's a lot of stamping about and angry confrontations, there are science lab set pieces and Congregation meetings, chases and rescues, and even some pregnancy drama.
Like I said, it's not a bad book. Not at all. But I didn't feel it the way I felt the other two, if that makes sense. I opened the book wanting to know what ends up happening to Matthew and Diana, and I closed the book having found out. The ending was exciting, and by the last quarter of the book, I really couldn't put it down. I was happy to see more of the secondary characters who make the series so special. (Bonjour, Ysabeau! Hiya, Gallowglass!) The search for Ashmole 782 comes to an end, and there are answers about Diana's powers and the family history.
What went missing for me was the emotional engagement. We see Matthew and Diana's marriage and life, but not the dramatic chemistry and attraction that created their connection. Perhaps it's just the fact of how far along the story is at this point; The Book of Life is the most plot-driven of the three books, and I missed the deeper personal elements that made the first two books so special.
I did end up enjoying The Book of Life, and I was satisfied with the ending. I just wish it had made me feel it all a bit more.
Note: If you're interested in the All Souls Trilogy, you can check out my review of Shadow of Night here.
_________________________________________
The details:
Title: The Book of Life
Author: Deborah Harkness
Publisher: Viking
Publication date: July 15, 2014
Length: 561 pages
Genre: Adult fiction
Source: Purchased