Welcome back to Thursday Quotables! This weekly feature is the place to highlight a great quote, line, or passage discovered during your reading each week.  Whether it's something funny, startling, gut-wrenching, or just really beautifully written, Thursday Quotables is where my favorite lines of the week will be, and you're invited to join in!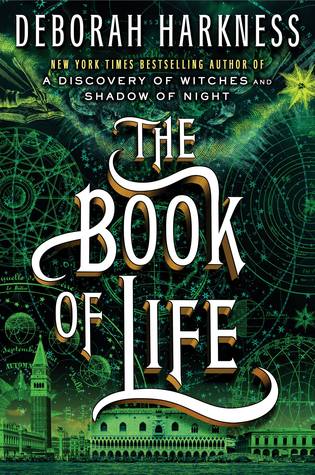 The Book of Life by Deborah Harkness
(Released July 15, 2014)

Book #3 in the All Souls trilogy is as intense as you'd expect — but for my Thursday Quotables selection, I thought I'd go with a few lines that made me smile:
Chris threw his hands in the air. "Well, no vampire ever knocked up a girl on Buffy. Not even Spike. And God knows he never practiced safe sex."

Bewitched had provided my mother's generation with their supernatural primer. For mine it was Buffy the Vampire Slayer. Whichever creatures had introduced Joss Whedon to our world had a lot to answer for. I sighed.
And another cute moment:
"No, I'm a vampire." Matthew stepped forward, joining Chris under the projector's light. "And before you ask, I can go outside during the day and my hair won't catch fire in the sunlight. I'm Catholic and have a crucifix. When I sleep, which is not often, I prefer a bed to a coffin. If you try to stake me, the wood will likely splinter before it enters my skin."

He bared his teeth. "No fangs either. And one last thing: I do not, nor have I ever, sparkled." Matthew's face darkened to emphasize the point.
What lines made you laugh, cry, or gasp this week? Do tell!
If you'd like to participate in Thursday Quotables, it's really simple:
Write a Thursday Quotables post on your blog. Try to pick something from whatever you're reading now. And please be sure to include a link back to Bookshelf Fantasies in your post (http://www.bookshelffantasies.com), if you'd be so kind!
Leave your link in the comments — or, if you have a quote to share but not a blog post, you can leave your quote in the comments too!
Visit other linked blogs to view their Thursday Quotables, and have fun!