Not a lofty, ambitious to-be-read list consisting of 100+ book titles. Just a simple plan for the upcoming week — what I'm reading now, what I plan to read next, and what I'm hoping to squeeze in among the nooks and crannies.
Sometimes I ask myself, why bother with a plan? After all, I just end up reading whatever strikes my fancy, 9 times out of 10. Or so it seems. Anyway, in my own probably futile attempt to control the chaos, here goes:
How did I do with last week's agenda?
Dreamers of the Day by Mary Doria Russell. Finished last week, and finally wrote a review. Plus, my book group discussion about Dreamers of the Day was terrific. And now I can say that I've read everything written by Mary Doria Russell — and can only sit back and wait for her to finish the next book.
The Uninvited Guests by Sadie Jones. Finished! My review is here.
Not on last week's agenda, but I read it anyhow: Stranded by Jeff Probst and Chris Tebbetts. My son finished this middle grade book, then insisted I read it as well. Our take on Stranded is here. Short version: If your kids are Survivor fans, this kids' book by the Survivor host is a great choice.
Also in kids' books: My son abandoned me midway through our read-aloud of Down the Mysterly River by Bill Willingham, so I finally decided to finish it on my own. My review is here.
Fresh Catch:
New acquisitions, both purchased and borrowed from the library — here's what joined my collection, permanently or temporarily, this past week:
Bought or received:
Plus, I went to hear Cheryl Strayed speak this past week (she was fantastic!) and I finally bought myself a copy of Wild, since the copy I read a few months back was borrowed from a friend. And look! She signed it!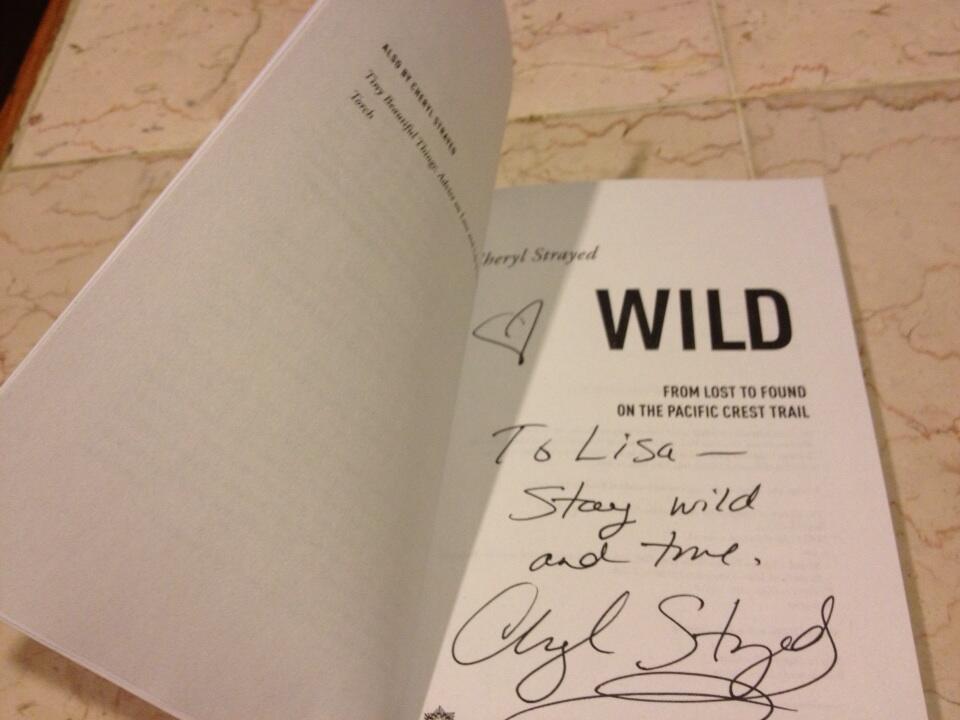 I also picked up a few books from the library. Why do all my holds come in all at once??? I may not get to read them all before they're due again, but here's what came home with me this week:
So yeah. My book habits are out of control. Like that's a surprise.
What's on my reading agenda for the coming week?
I actually have a clean slate at the moment. I'm not in the middle of anything! So what to read?
I intend to start with Lady of Ashes by Christine Trent. A Victorian lady undertaker! Sounds like something I'll love.
Next, I'm really looking forward to reading the review copy of The River of No Return by Bee Ridgway, which just arrived in the mail yesterday. Time travel + historical fiction = something I can't wait to read.
Meanwhile, I really should get to one of the new, biggish novels that have come my way, but I'm trying not to overcommit — so no promises for what's next!
So many book, so little time…
That's my agenda. What's yours? Add your comments to share your bookish agenda for the week.