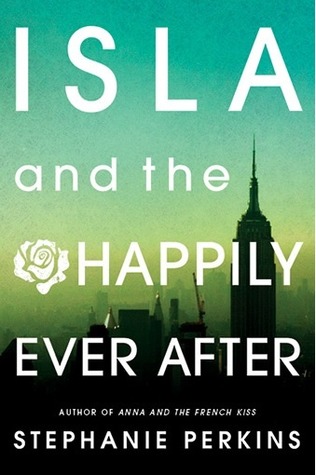 Stephanie Perkins excels at writing young adult novels that shine with honest emotion, likeable but flawed characters, and an unflinching look at how young people in love behave in real life. There's no sugar-coating or fake revelations or makeovers leading to perfect relationships: The people in her novels feel alive and familiar — not an adult's idea of what teens might be like, but real people channeled through the writer's mind and pen (or keyboard).
Isla and the Happily Ever After is Stephanie Perkins's third book in a loosely connected trio, following Anna and the French Kiss and Lola and the Boy Next Door. Like Anna, Isla is set in Paris at a private, expensive boarding school for Americans. In Isla, the gang from Anna has graduated and moved on, and we focus on Isla, a quiet New Yorker whom we glimpsed in the background in earlier books.
Isla (pronounced Eye-la, thank you very much) has been crushing on cute, artistic Josh since their freshman year, but when we last saw him in Anna, he had a girlfriend and didn't seem aware of Isla's existence. A chance encounter in a coffee shop during which Isla is extra flirty (thanks to post-dental-work Vicodin) leads to a very cute huddle in the rain, a spark of attraction, and the very big possibility that Josh might actually like Isla back.
It's not long before Isla and Josh reconnect in Paris as their senior year begins, and before you know it, the two are hot and heavy and falling in love. But wait! The book is called Isla and the Happily Ever After, and she seems to have found her HEA… but the book is only half-way through. Whaaaaat?
Well, naturally, there are complications. Obstacles. Misunderstandings and heartbreak.
What might seem predictable or trite in a lesser piece of work feels sad but completely real here. It makes sense that these two bring all of their individual baggage to the relationship and can't conjure an instantaneously happy life out of thin air, no matter how much they love each other. Eighteen is a tricky time to plan a future, whether it's thinking about college plans or even longer term. Isla and Josh love each other so much, and they still fall apart. The question then becomes, can they figure it all out?
(Okay, yeah, the book title kind of flashes a big neon clue about what sort of ending we'll get…)
I enjoyed Isla very much. The Paris setting doesn't hurt a bit, and it's quite fun to see Josh's artwork through the eyes of his besotted girlfriend. Likewise, it's great to see a central female character who's a good person, but still has a lot to learn. The characters' friendships and family complications add interesting twists to the plot and help make the story feel richer and fuller than it would if the love story were the only focus.
Granted, the fact that the book is set in Paris and that all of the characters have zero money problems tends to lend the story a fairy-tale feel. Maybe that would become obnoxious in a different sort of book, but in Isla, it just means that we get to enjoy these wonderful Parisian settings (and even  Barcelona) with Isla and Josh, and we readers get just as swept up by the magic of it all as the characters do.
I recommend the entire trio by Stephanie Perkins for anyone who enjoys upbeat, contemporary YA which includes gritty, romantic love and urban settings that practically scream "come here to fall in love!".
See my reviews of Stephanie Perkins's other books:
Anna and the French Kiss
Lola and the Boy Next Door
_________________________________________
The details:
Title: Isla and the Happily Ever After
Author: Stephanie Perkins
Publisher: Dutton
Publication date: August 14, 2014
Length: 339 pages
Genre: Young adult contemporary fiction
Source: Library