There's nothing like a Wednesday for thinking about the books we want to read! My Wishing & Waiting on Wednesday post is linking up with two fabulous book memes, Wishlist Wednesday (hosted by Pen to Paper) and Waiting on Wednesday (hosted by Breaking the Spine).
My most wished-for book this week is: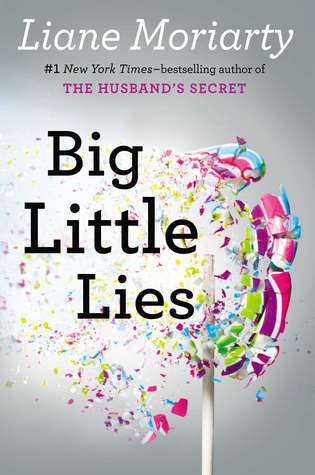 Big Little Lies by Liane Moriarty
(expected US publication date: July 29, 2014)
Synopsis via Goodreads:
Sometimes it's the little lies that turn out to be the most lethal. . . .

A murder… . . . a tragic accident… . . . or just parents behaving badly? What's indisputable is that someone is dead. But who did what?

Big Little Lies follows three women, each at a crossroads: Madeline is a force to be reckoned with. She's funny and biting, passionate, she remembers everything and forgives no one. Her ex-husband and his yogi new wife have moved into her beloved beachside community, and their daughter is in the same kindergarten class as Madeline's youngest (how is this possible?). And to top it all off, Madeline's teenage daughter seems to be choosing Madeline's ex-husband over her. (How. Is. This. Possible?).

Celeste is the kind of beautiful woman who makes the world stop and stare. While she may seem a bit flustered at times, who wouldn't be, with those rambunctious twin boys? Now that the boys are starting school, Celeste and her husband look set to become the king and queen of the school parent body. But royalty often comes at a price, and Celeste is grappling with how much more she is willing to pay. 

New to town, single mom Jane is so young that another mother mistakes her for the nanny. Jane is sad beyond her years and harbors secret doubts about her son. But why? While Madeline and Celeste soon take Jane under their wing, none of them realizes how the arrival of Jane and her inscrutable little boy will affect them all.

Big Little Lies is a brilliant take on ex-husbands and second wives, mothers and daughters, schoolyard scandal, and the dangerous little lies we tell ourselves just to survive.

I loved Australian novelist Liane Moriarty's previous novel, The Husband's Secret (reviewed here in March of this year), and was so excited to see that she has a new book due out this summer. This author excels at capturing the secrets lurking in everyday lives. I can't wait to read Big Little Lies!
What are you wishing for this Wednesday?
Looking for some bookish fun on Thursdays and Fridays? Come join me for my regular weekly features, Thursday Quotables and Flashback Friday! You can find out more here — come share the book love!

♥♥♥♥♥♥♥♥
Do you host a book blog meme? Do you participate in a meme that you really, really love? I'm building a Book Blog Meme Directory, and need your help! If you know of a great meme to include — or if you host one yourself — please drop me a note on my Contact page and I'll be sure to add your info!