Welcome back to Thursday Quotables! This weekly feature is the place to highlight a great quote, line, or passage discovered during your reading each week.  Whether it's something funny, startling, gut-wrenching, or just really beautifully written, Thursday Quotables is where my favorite lines of the week will be, and you're invited to join in!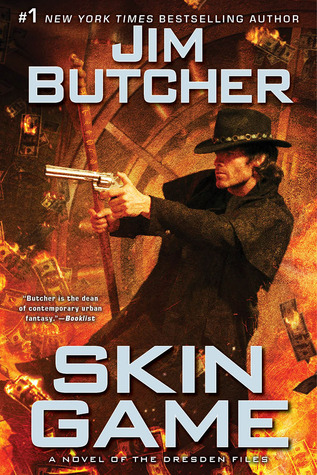 Skin Game by Jim Butcher
(published May 27, 2014)

We got out of Karrin's little SUV and headed toward the creepy old slaughterhouse full of dangerous beings. Which … pretty much tells you what kind of day I was having, right there.
Par for the course, if you're a certain Chicago wizard.
Because Nicodemus is a murderous murdering murder.
He sure knows how to pick his enemies!
But they were doughnuts of darkness. Evil, damned doughnuts, tainted by the spawn of darkness…

… which could obviously be redeemed only by passing through the fiery, cleansing inferno of a wizardly digestive tract.
Harry Dresden is back! Man, have I missed his smart-ass comments about all things supernatural, deadly, or just plain weird.
What lines made you laugh, cry, or gasp this week? Do tell!
If you'd like to participate in Thursday Quotables, it's really simple:
Write a Thursday Quotables post on your blog. Try to pick something from whatever you're reading now. And please be sure to include a link back to Bookshelf Fantasies in your post (http://www.bookshelffantasies.com), if you'd be so kind!
Leave your link in the comments — or, if you have a quote to share but not a blog post, you can leave your quote in the comments too!
Visit other linked blogs to view their Thursday Quotables, and have fun!