Book Review: One Plus One by Jojo Moyes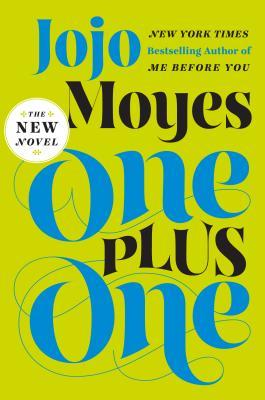 This is either the happiest sad book I've ever read, or the saddest happy book. Either way, it brought me to tears while making me laugh… and either way, I simply loved it.
In One Plus One, we meet single mom Jess Thomas, in her late twenties, working as many jobs as possible to support her two kids, and just not getting by. The bills are stacking up, and there are always more. Plus, stepson Nicky is getting bullied and beaten up and daughter Tanzie is a math genius who should be in private school — but private school is simply out of reach financially.
There were lots of awful things about the father of your children leaving: the money issues, the suppressed anger on behalf of your children, the way most of your coupled-up friends now treated you as if you were some kind of potential husband stealer. But worse than that, worse than the endless, bloody exhausting financial and energy-sapping struggle, was that being a parent on your own when you were totally out of your depth was actually the loneliest place on earth.
And then there's Ed Nicholls, software success story with oodles of money who makes a seriously bad decision while breaking up with a crush from his college days and ends up embroiled in an insider trading investigation that could cost him everything.
Worlds collide. Jess cleans Ed's house and has never been more than the unseen cleaner to him — but when his world starts falling apart, he happens to come across Jess and her kids stranded on the side of the road, and in a burst of do-gooder repentance, decides to offer to drive them to Scotland for a math Olympiad competition that may provide Tanzie with the funds to get to the school she needs.
And thus ensues one of the funniest, most uncomfortable, and unluckiest road trips in literary road trip history. Car sickness, food poisoning, big drooly dogs, and cows in the road all play a part in Ed and Jess's big adventure. Yet along the way, some miraculous things occur. Jess has time with her kids, for the first time in years, in which she has nothing else to do and nowhere else to be. Nicky starts to smile again. Tanzie has a shot at the maths future she so craves. And Ed and Jess go from prickly antagonism to spiky friendship to maybe something more.
Jess is a ridiculously optimistic person who just doesn't give up, even when her kids are falling apart and she's down to her last few pounds. She believes that things will get better. She believes that good people eventually wind up getting the good fortune they deserve.
She wondered whether being able to sound cheerful about things that made her want to kick something was her superpower.
But when one thing after another goes wrong and she sees her children getting a raw deal — again — even Jess's unfailingly sunny outlook starts to wear thin. Ed certainly knows better. He knows that bad stuff happens, like it or not, and that momentary weakness can lead to ruin. The question is, can he and Jess somehow change their fates and find a way toward happier times?
As Tanzie muses:
The law of probability combined with the law of large numbers states that to beat the odds, sometimes you have to repeat an event an increasing number of times in order to get you to the outcome you desire. The more you do, the closer you get. Or, as I explain it to Mum, basically, sometimes you just have to keep going.
The chemistry between Ed and Jess is delightful, going from silent dislike to grudging acceptance to a reluctant attraction and then some. These two smart, lonely, often disappointed people manage to forge a connection during their few short days stuffed in a car together, and between their hurt and their sense of humor, a spark starts to catch:
Mr. Nicholls nodded toward the candle and the plates. And then he looked up at Jess and he was no longer scowling. "This is actually the best pie and chips I've ever eaten in a weird bed-and-breakfast somewhere I've never heard of on the north Yorkshire moors."
One Plus One moves effortlessly between points-of-view, so that we hear from Jess, Ed, Nicky, and Tanzie. Each has a unique and compelling voice; each voices his or her slightly different take on matters without feeling forced or artificial. The author skillfully weaves together these characters into one cohesive whole. There's momentum and there's real emotion. While many of the escapades along the way are kind of goofy, underlying it all is a story of good people caught up in situations in which it feels like the whole world is against them. How do you stay good when you can never catch a break? When no matter what, things don't work out?
There aren't easy answers here for any of the characters, but somehow, by putting them all together, one plus one does add up to so much more than it should. The group dynamics are fabulous, and each character in this lovely novel feels like a real person. The reader can't help but feel invested in them, individually and as a part of their interwoven relationships.
I've read one book by Jojo Moyes previously, her historical novel The Girl You Left Behind (reviewed here last September). I may be the last person on the planet who hasn't read the author's bestseller Me Before You, and I plan to remedy that as soon as possible. Jojo Moyes is absolutely gifted at writing that gets to the heart and soul of her characters, bringing them to life in a way that lets readers feel as though they're meeting real people, not fictional creations. One Plus One is a contemporary novel that conveys warmth and connection through characters who are sympathetic and likeable. You want Jess and Ed to succeed, and you want Nicky and Tanzie to be happy.  Not every novel can make you care quite so much. One Plus One is a quiet book in many ways, but one that I recommend wholeheartedly.
_________________________________________
The details:
Title: One Plus One
Author: Jojo Moyes
Publisher: Pamela Dorman Books
Publication date: July 1, 2014
Length: 384 pages
Genre: Contemporary fiction
Source: Review copy courtesy of Pamela Dorman Books via NetGalley