A quick note: I thought I'd try out a new book review format! My "Take a Peek" reviews will be short and (I hope) sweet, keeping the commentary brief and providing a little "peek" at what the book's about and what I thought. Tell me if you like!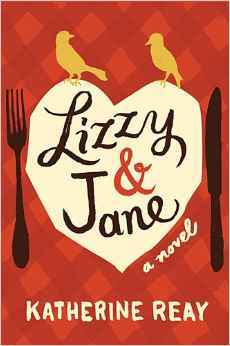 Synopsis:
(via Goodreads)
Lizzy and Jane never saw eye to eye. But when illness brings them together, they discover they may be more like Austen's famous sisters after all.
Lizzy was only a teenager when her mother died of cancer. Shortly after, Lizzy fled from her home, her family, and her cherished nickname. After working tirelessly to hone her gift of creating magic in the kitchen, Elizabeth has climbed the culinary ladder to become the head chef of her own New York restaurant, Feast. But as her magic begins to elude her, Paul, Feast's financial backer, brings in someone to share her responsibilities and her kitchen. So Elizabeth flees again.
In a desperate attempt to reconnect with her gift, Elizabeth returns home. But her plans are derailed when she learns that her estranged sister, Jane, is battling cancer. Elizabeth surprises everyone—including herself—when she decides to stay in Seattle and work to prepare healthy, sustaining meals for Jane as she undergoes chemotherapy. She also meets Nick and his winsome son, Matt, who, like Elizabeth, are trying to heal from the wounds of the past.
As she tends to Jane's needs, Elizabeth's powers begin to return to her, along with the family she left behind so long ago. Then Paul tries to entice her back to New York, and she is faced with a hard decision: stay and become Lizzy to her sister's Jane, or return to New York and the life she worked so hard to create?
My Thoughts:
Lizzy & Jane is both sad and hopeful, a look at two sisters who have a seemingly impassable chasm between them after years of resentment, estrangement, and loneliness. Elizabeth is adrift in the world; she thinks that she's put her painful family history behind her and that she's found success as a top New York chef, but as the story opens, she's forced to admit that her life just isn't working any more.
Reunited with her sister and her father, Elizabeth slowly starts to find joy in her cooking again, as she cares for her sister, her sister's kids, and even the other chemo patients she meets while keeping Jane company. As Elizabeth begins to open herself up to forgiveness and reconciliation, she finds her life taking on new meaning and finds a passion and purpose that she didn't even know she needed.
I loved how neatly the author ties together literature and cooking in this lovely (and delicious) novel. I'm not a foodie, but even I appreciated Lizzy's knack for understanding a person's food tastes based on what they love to read. I don't know if I'm quite convinced that it would work in real life, but in the context of fiction, it's simply inspired!
Overall, I really enjoyed Lizzy & Jane. The main character is flawed and wounded, and it's lovely to see her reconnect with her sister and rediscover herself in the process. The love story is a tad predictable, but still delicious in its own way. The portrayal of the fraught relationship between the sisters feels realistic and sensitive, and I couldn't help cheering for the characters (and occasionally wanting to give them a little kick to get them talking again!). Filled with real emotion, satisfying personal growth, and a group of supporting characters who each add a little spice to the story, Lizzy & Jane is a great choice for anyone looking for a book to make you feel.
_________________________________________
The details:
Title: Lizzy & Jane
Author: Katherine Reay
Publisher: Thomas Nelson
Publication date: October 28, 2014
Length: 339 pages
Genre: Contemporary fiction
Source: Review copy courtesy of Thomas Nelson via NetGalley