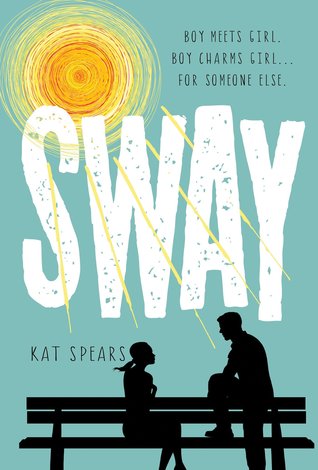 The synopsis for Sway, on Goodreads and elsewhere, describes the book as "hilarious" — and that's not the way I'd put it.
Snarky, snide, clever, with humorous dialogue? Yes. But a laugh riot? No.
Sway is told from the point-of-view of high school senior Jesse Alderman, a kid who knows how to make things happen and get things done. He's a fixer. People come to him for solutions, for answers, for connections. He'll take on any job, it would seem. He arranges protection for a kid who's being bullied. He makes sure that the bane of the principal's existence gets expelled. He guarantees that a school fundraiser is a success — for a cut of the earnings. He also deals drugs (more on this later) and term papers, and seems to be welcomed everywhere he goes.
Jesse doesn't really have many friends, though, having shut himself off emotionally after a family tragedy a year before. He doesn't allow himself to feel, doesn't even play his beloved guitar any longer. He floats through life, living by his wits, seemingly above it all. And then Ken, the star football player, hires Jesse to help him win a certain girl… and the girl is amazing. Jesse has never met anyone like Bridget before — beautiful, yet not focused on her beauty, and truly committed to doing good works. As Jesse gets to know Bridget in order to carry out his task, he can't quite recognize what's happening to himself at first, but slowly it becomes clear: He's falling in love.
That doesn't stop Jesse from completing his mission, and before you know it, Ken is dating Bridget, Jesse has earned his money, and all should be well. Except Jesse is now friends with Bridget as well as with her younger brother Pete, who's a pissed-off kid with cerebral palsy and a chip on his shoulder, and Jesse can't quite pull himself away. Things go south, as you'd expect, and it's interesting to see Jesse pick up the pieces and finally start to repair the damage to his own life.
Along the way, Jesse falls more and more into good-guy mode, although he'd never admit it. As part of his ruse to get to know Bridget, he befriends an old man in an assisted living facility — but even after the ruse has been completed, Jesse continues to hang out with Mr. D., each providing the other with the sense of family both are missing. Jesse would consider himself a heartless business person, but his actions continually lead to good, even selfless results.
More troubling? Jesse's drug dealing is just no big deal throughout most of the book. Jesse is a charmer and a welcome addition to every party — but how much of this is his personality and how much of it is the pot and X that he supplies? I found the morality of the drug aspects a bit slippery. Even when Jesse wants out of the drug business, he finds another kid from the high school to take his place with his pot connection, and it's presented as a good thing for the kid, a way to win friends and fit in. The situation with the X dealer is a lot hairier and scarier, but even that dire situation is resolved fairly quickly.
There are a few loose plot threads that could have used more explanation, particularly in regard to Jesse's two closest allies. I'd have liked to get to know each of them better and to find out more about how they connected with Jesse in the first place and why their bonds are so strong. I would also have liked to know more about Jesse's family life and his childhood; we know about the tragedy from a year prior and have a sketchy understanding of what his life had been like prior to that, but I think a bit more fleshing out of that part of the story would have been helpful. Perhaps the biggest omission is an explanation of how Jesse came to be the success he is at influencing and fixing — when did he get started, and how? And how much of his business was already in place prior to a year ago?
Overall, I found Sway to be fast-moving and captivating. I read it all in one day, and had a hard time taking a break for little things like eating and talking to my family. Jesse is a wounded boy who acts out in all sorts of ways, and yet he's clearly smart and funny… and underneath the gruff, never ruffled exterior lurks a kid who actually cares.
For what it's worth, I'd say ignore the book blurbs that describe Sway as "a Cyrano de Bergerac story with a modern twist". The comparison is only vaguely relevant, and doesn't really set the right expectations for reading this young adult novel. Just go into knowing that it's a well-written, clever story with heart, focused on unusual characters, and enjoy!
_________________________________________
The details:
Title: Sway
Author: Kat Spears
Publisher: St. Martin's Griffin
Publication date: September 16, 2014
Length: 320 pages
Genre: Young adult contemporary fiction
Source: Review copy via NetGalley