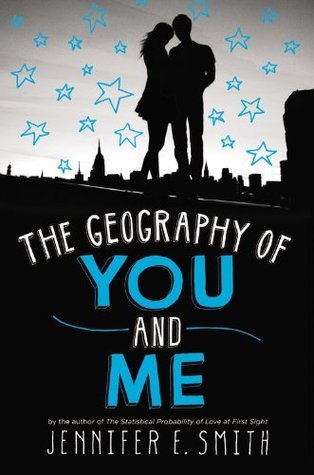 Meeting cute doesn't get much cuter than this: Two Manhattan teen-aged loners get stuck in an elevator together during a city-wide blackout. Perfect, right?
For Lucy and Owen, the stuck elevator is just the beginning of a magical night. Once freed, they roam the streets and their building with no parents, no electricity, and no interference from normal daily life. They go up to the roof and watch the stars, they talk, and they dream. And the next day, it's all over — but each is permanently marked by their brief time together.
Meanwhile, Lucy and Owen each have some real life drama as well. Lucy is the youngest child of busy, successful, jet-setting parents, who seem to think nothing of leaving her home alone while they travel the world, sending postcards from every perfect tourist destination they visit. Owen and his father have been drifting for months since Owen's mother died in a car accident, and the sadness of their lives is overwhelming.
Lucy and Owen are deeply lonely people, and the connection they feel is sudden and strong. But their family ties pull them apart almost immediately, and though they keep up a connection via goofy "wish you were here" postcards, their paths seem to take them further and further away from one another. Was their connection a fluke? Is it just an illusion? Should they forget about it and move on along their new paths, or is the chemistry between them something worth trying to recapture?
The Geography of You and Me is a light and charming young adult romance, but it doesn't skimp on real dilemmas and honest conflicts. Family loyalty is explored, and the parent-child relationships here are complex and sad. Lucy and Owen both have imperfect parents in their lives, and each has to step up in ways that might seem unfair, yet they love their parents and want more than anything to make their family lives work out. Both characters dream of each other, yet each is also determined to move forward, to find happiness, and to find a place to fit in.
I liked both main characters quite a bit. They're smart and devoted, wise for their years yet not above being silly and spontaneous. Over the course of the novel, we see them grow and change, and their trajectories feel real. The storyline never sags, and despite spending most of the story apart, the connection between Lucy and Owen is always present between the lines.
My only quibble with this book is less about the book itself and more about overall trends. Perhaps this book might have grabbed me a little bit more or felt fresher if I hadn't read Gayle Forman's Just One Day and Just One Year recently. The Geography of You and Me treads familiar ground, focusing as it does on two characters who seem destined to get together, but spend most of the story apart, struggling to reconnect. As with the Forman books, it's the journey that counts, and the ending scenario is remarkably similar. I feel like the trend of keeping characters apart and ending with a reunion is becoming more prevalent in contemporary young adult fiction, and unfortunately, that means that even when there's one that succeeds, it may not feel entirely new or different.
That doesn't mean that The Geography of You and Me isn't worth reading; it certainly is. It's fun, sweet, and even touching, and it's quite a fast read as well, so you'll be tempted to read it straight through to keep the storyline flowing along. This tale of connection and belonging is entertaining and never sappy. If you enjoy teen love stories with a hip, urban feel, this is definitely a book to check out.
Want to know about another Jennifer E. Smith book? Here's my review of This Is What Happy Looks Like.
_________________________________________
The details:
Title: The Geography of You and Me
Author: Jennifer E. Smith
Publisher: Poppy/Little, Brown and Company
Publication date: April 15, 2014
Length: 337 pages
Genre: Young adult fiction
Source: Library