Welcome back to Thursday Quotables! This weekly feature is the place to highlight a great quote, line, or passage discovered during your reading each week.  Whether it's something funny, startling, gut-wrenching, or just really beautifully written, Thursday Quotables is where my favorite lines of the week will be, and you're invited to join in!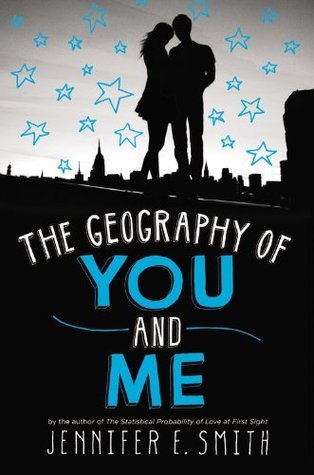 The Geography of You and Me by Jennifer E. Smith
(Released April 10, 2014)

I love this description of a busy family, always heading in different directions:
And how many times had they all been stuffed in here together? Dad, with his newspaper folded under his arm, always standing near the door, ready to bolt; Mom, wearing a thin smile, seesawing between amusement and impatience with the rest of them; the twins, grinning as they elbowed each other; and Lucy, the youngest, tucked in a corner, always trailing behind the rest of the family like an ellipsis at the end of a sentence.
As someone who grew up the youngest in the family, I can attest to how perfect the comparison to an ellipsis at the end of a sentence is!
What lines made you laugh, cry, or gasp this week? Do tell!
If you'd like to participate in Thursday Quotables, it's really simple:
Write a Thursday Quotables post on your blog. Try to pick something from whatever you're reading now. And please be sure to include a link back to Bookshelf Fantasies in your post (http://www.bookshelffantasies.com), if you'd be so kind!
Leave your link in the comments — or, if you have a quote to share but not a blog post, you can leave your quote in the comments too!
Visit other linked blogs to view their Thursday Quotables, and have fun!