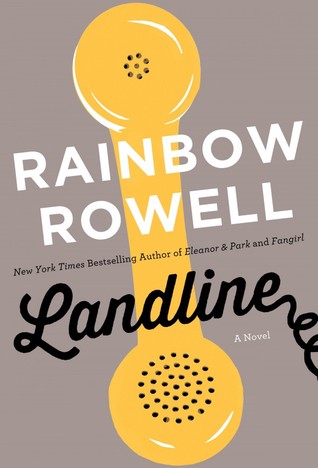 Marriage, happiness, and a family's future are on the line in Rainbow Rowell's newest novel, Landline.
I'll preface this review by pointing out that Landline is not a young adult novel. Rainbow Rowell exploded with her first YA novel, the excellent and tear-inducing Eleanor & Park, and solidified her place in the YA pantheon with Fangirl — but she also writes terrific grown-up fiction, including 2011's Attachments and brand-new Landline.
In Landline, we meet Georgie McCool, a thirty-something comedy writer (who happens to love the TV show thirtysomething). Georgie has a stay-at-home husband, two adorable daughters, and a life that's falling apart. Neal is always unhappy with her, to the point where she's practically forgotten what it feels like to see him happy at all. Georgie and her best friend-slash-writing partner having been toiling for almost 20 years in the writers' rooms of LA TV, waiting for the chance to finally make "their" show. And when that chance seems to be within reach, the timing couldn't be worse: Georgie is supposed to be heading toward Omaha with Neal and the kids for Christmas — but the scripts have to be done that week or the deal is off.
When Georgie decides to stay in LA, she's blown away that Neal still leaves for Omaha — and is left in a complete tizzy, wondering if they're merely spending Christmas apart, or if Neal has actually left her.
Things get decidedly weird when a dead cell phone battery and a night spent in her childhood bedroom cause Georgie to resort to digging out the old dial telephone in the back of the closet in an effort to reach Neal in Omaha. Neal, at this point, is very pointedly not answering his cell phone, and Georgie is getting frantic. Lo and behold, when Georgie uses the landline, Neal answers… but it's Neal in 1998, the almost-but-not-quite adult version of Neal who may be breaking up with Georgie. As the two begin a string of nightly phone conversations, Georgie is understandably weirded out at first, but comes to realize that something approaching miraculous may be happening. Through her conversations with younger Neal, Georgie gains a new understanding of where they've lost their way, but the question remains: Is there any chance that Georgie and Neal will find their way back to one another?
Georgie is a fun, funny character, quick-witted and quick with a quip. Her goal in life is to make people laugh, despite ending up with a husband who can barely bring himself to smile. Landline uses the device of the phone calls to take us back through Georgie and Neal's romance, showing us their history and how two such different people found themselves head over heels in love. Their relationship feels real, and it's easy to see how a couple with good intentions and full of love could still find themselves teetering on the brink of failure.
Georgie's not without her faults, of course. She is pretty clueless about Neal's unhappiness, and she is quite selfish when it comes to putting her career goals ahead of her family life. At the same time, she is the sole financial support of the family, and she works in a demanding field. If the shoe was on the other foot and the husband was the one working late and missing family vacation, would it feel any less unfair or inconsiderate?
I liked the device of the mysterious telephone connection (which Georgie can't quite believe, and which she refers to sarcastically as her "magic" phone). There's no explanation offered, so if you  like your mystical objects to have a rational basis, you'll be out of luck here. Landline is, essentially, a story about the magic of love, and the phone is just one more whimsical plot element that helps the characters move forward and find their way.
As always, Rainbow Rowell's dialogue is snappy and snarky, and the humor keeps the story from ever feeling too heavy, even when it appears that the marriage is doomed. This is a light-hearted novel — not light as in inconsequential, but light as in filled with sunshine, focused on the quest for happiness, and containing the essence of a modern-day fairy tale. We come to care about the characters and want them to be happy, and by the end, can't help but cheering as the the novel attains a movie-esque momentum worthy of a rom-com's will-she-get-there-in-time action sequence.
Landline is a great choice for readers who enjoy well-written contemporary fiction with heaping doses of laughter. While not avoiding the heavier subject matter of a marriage about to implode, Landline keeps the story moving along at a brisk pace and never plunges into despair. It's a great love story — a story not about falling in love, but about the much harder work of staying in love.
Rainbow Rowell has been firmly on my must-read-everything list ever since Eleanor & Park, and I haven't been let down yet. Landline made me happy… and I can't wait to hear about the author's next project, whatever it might be.
Favorite lines and passages:
"Kids are perceptive, Georgie. They're like dogs" — she offered a meatball from her own fork to the pug heaped in her lap — "they know when their people are unhappy."

"I think you may have just reverse-anthropomorphized your own grandchildren."
___________________
Georgie was extra. She was the fourth wheel. (On something that only needed three wheels. The fourth wheel on a tricycle.)
___________________
"Upper body strength isn't everything; I have wiles."

"Not really."

"Yes, I do. I'm a woman. Women have wiles."

"Some women. It's not like every woman is born wily."

"If I don't have wiles," she said, "how come I can get you to do almost anything I want?"

"You don't get me to do anything. I just do things. Because I love you."
Want more Rainbow Rowell? See my reviews of her other novels:
Eleanor & Park
Attachments
Fangirl
_________________________________________
The details:
Title: Landline
Author: Rainbow Rowell
Publisher: St. Martin's Press
Publication date: July 8, 2014
Length: 310 pages
Genre: Adult contemporary fiction
Source: Purchased