There's nothing like a Wednesday for thinking about the books we want to read! My Wishing & Waiting on Wednesday post is linking up with two fabulous book memes, Wishlist Wednesday (hosted by Pen to Paper) and Waiting on Wednesday (hosted by Breaking the Spine).
This week's pick: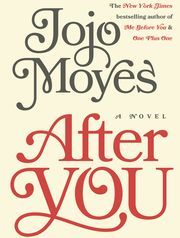 After You by Jojo Moyes
(to be released September 24, 2015 )
A sequel to Me Before You!!! Need I say more? I was so excited to hear about this during the past week. For anyone wanting to know more, check out the announcement on the author's website or this article from USA Today.
Note: If you don't want to see spoilers from Me Before You, DO NOT click on the links or read any synopses for After You!
What are you wishing for this Wednesday?
Looking for some bookish fun on Thursdays? Come join me for my regular weekly feature, Thursday Quotables. You can find out more here — come play!

♥♥♥♥♥♥♥♥
Do you host a book blog meme? Do you participate in a meme that you really, really love? I'm building a Book Blog Meme Directory, and need your help! If you know of a great meme to include — or if you host one yourself — please drop me a note on my Contact page and I'll be sure to add your info!