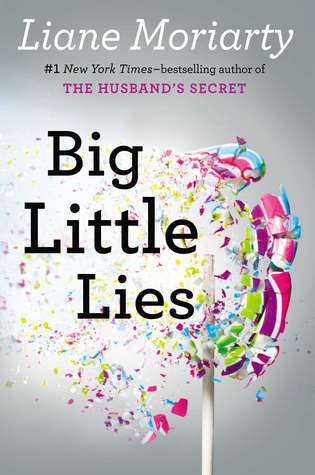 In Liane Moriarty's newest bestseller, the Australian mommies at the heart of the story have a boatload of secrets and lies, and the schoolyard is practically on fire with hostility, passive-aggressive snarkiness, and not very grown-up-like behavior.
While we're introduced pretty quickly to a large cast of characters, we mainly follow a group of three women who become best friends:
Madeline, happily married to her second husband and mother of two young 'uns… but still plagued by resentment as she and her ex-husband wrangle time-sharing of their teen-aged daughter and deal with the fact that they'll each have a little girl in kindergarten this year — in the same class.
Celeste, stunningly beautiful and fabulously wealthy, with a perfect husband and twin boys — but hiding a devastating secret from even her closest friends.
Jane, young single mom whose son Ziggy is accusing of bullying during kindergarten orientation. But did he do it? And what happened in Jane's past that makes her so insecure about herself… and makes her wonder whether the accusations against her sweet Ziggy could be true?
We know from the very first chapter that something goes terribly wrong at a school fundraiser, and through quotes from assorted school parents sprinkled throughout the book, we see the the power of gossip and the way events gets distorted through the lens of personal bias and predisposition. Oh, and there's a dead body and a police investigation, and a whole slew of unreliable witnesses.
Big Little Lies is a roller coaster ride of a book, full of twists and turns, ups and downs. The plot is fast-paced and engrossing, and the characters are just so damn good!
I'll be honest: I almost closed this book and walked away within the first couple of chapters. Having read (and loved) The Husband's Secret, I was getting a "been there, done that" feeling at the beginning of Big Little Lies. Another drama centered on the schoolyard? Yawn.
But something told me to keep reading, and wow, what a pay-off. The author is masterful at portraying people who feel real, but with that added oomph that makes them leap off the page. We all know people like Madeline and her ex, or like the "Blonde Bobs", the ultra-involved moms who rule the school and look down their noses at all the less-perfect mothers — the ones who never quite manage to have the right snacks or finish their kids' school projects on time.
While there's real pain and drama here, the humor quotient is also quite high. I couldn't help but cringe when reading certain characters' lines, realizing that some of these same ridiculous-sounding statements have come out of my own mouth from time to time. All of the embarrassingly petty thoughts of parents under stress can be found here, and they're hilarious… and also — almost — uncomfortably true to life. Yup, Madeline's rants about her ex-husband felt a little too close for comfort to me… to the extent that my own daughter laughed hysterically when I read them to her, clearly pointing a finger back at me and some of my more ridiculous statements about my daughter's dad.
The underlying story, beneath the surface of snarky humor and quippy one-liners, is sad and powerful. The through-story is about domestic violence and abuse, and it's conveyed with heartbreaking sympathy and realism. When told from the victim's point of view, it's possible to understand why she stays for as long as she does, why she feels trapped, and how no solution or escape plan feels possible to her. Likewise, the deep shame that another character feels over an event from her past may objectively be illogical, but told from her own point of view, we can easily see how her current doubts and worries relate back to this terrible incident and can understand why she feels as she does.
Liane Moriarty does an excellent job of telling a compelling story that gets the balance of entertainment and empathy just right. It's a sad, sad story in many ways, and yet the writing is so crisp and full of humor that I found myself laughing throughout as well.
I highly recommend Big Little Lies. It's both a fast and absorbing read and a deep look at friendship, marriage, pain, and healing. I'm really looking forward to reading more by this outstanding Australian novelist.
For a look at another book by Liane Moriarty, see my review of The Husband's Secret.
_________________________________________
The details:
Title: Big Little Lies
Author: Liane Moriarty
Publisher: Putnam Adult
Publication date: July 29, 2014
Length: 480 pages
Genre: Adult contemporary fiction
Source: Library