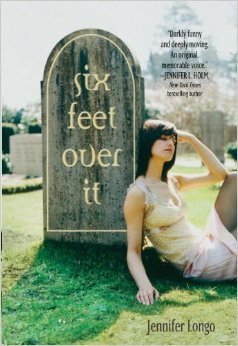 In this moving young adult novel, main character Leigh is stuck working in her family business… which just happens to be running a graveyard. On a whim, her self-centered dad Wade has relocated his family from beautiful coastal Mendocino to the hot, boring inland town of Hangtown (yes, really, that's its name), where he's bought a graveyard. Shell-shocked, Leigh is forced into working in the graveyard office, selling plots and services to families at the worst moments of their lives. Does it make sense for an inexperienced teen to be a source of comfort for mourners? Wade doesn't seem to care.
There's more here than meets the eye. Only six months prior to the move, Leigh's older sister Kai finally went into remission after a two-year battle with cancer. And what the family doesn't know is that Leigh is battling major demons of guilt and self-blame. While Kai was ill, Leigh made a friend, the adorable and bubbly Emily. But Leigh always felt that she was abandoning Kai to spend time with Emily, so kept their friendship a secret. When Kai's health returned and the girls were sent off to spend the summer with their grandparents, Leigh could have chosen to go with Emily instead to a week of camp — but telling herself that Kai always had to come first, Leigh stuck with her sister, and then discovered only through a newspaper clipping that Emily had died in a freak accident. More guilt. Would Emily have died if Leigh had been there? Would Kai have still beaten her cancer if Leigh hadn't been by her side the whole time? And if Leigh now allows a new friend into her life, will she be betraying Emily all over again?
The parents in Six Feet Over It are truly appalling. Continuing the trend of absent/clueless parents in YA fiction, Leigh's parents can, in the kindest interpretation, be accused of benign neglect. No one notices what Leigh is going through. No one notices that she wears the same jeans every single day (Emily gave them to her), that she has no friends, that she's barely eating, that she's on the verge of collapse from all of her misery. Instead, her mother retreats into painting and incessant solo trips back to Mendocino, and her dad is… well, he's just a selfish, insensitive jerk, always quick with a joke but never bothering to listen. It's awful. Sure, they've been through hell almost losing Kai, but their neglect of Leigh is unconscionable.
Six Feet Over It goes a lot deeper than I had anticipated. Leigh's inner turmoil is painful to read about, yet it feels real. Her burden of guilt and responsibility may not make objective sense to an outsider, but it's what she feels, and the author gives Leigh a voice that makes her struggles understandable.
There's a subplot about the graveyard caretaker who becomes Leigh's only source of support and comfort, but this piece of the story meanders into a rescue/road trip/border crossing story that is more of a distraction than it is a key part of the plot. Quite refreshingly, Leigh is not rescued from darkness by romance; there's no love story hidden in Six Feet Over It, and that makes for a nice change from so much of the current crop of YA novels.
Overall, I found Six Feet Over It to be deeply affecting, while showcasing a brave young woman with a decidedly unusual life. I enjoyed seeing Leigh's journey through such a painful and difficult period of her life, and felt that the book ended in a way that seemed both hopeful and realistic. I'd recommend this book for anyone who enjoys contemporary fiction with a slightly off-the-beaten-path feel to it.
_________________________________________
The details:
Title: Six Feet Over It
Author: Jennifer Longo
Publisher: Random House Books for Young Readers
Publication date: August 26, 2014
Length: 352 pages
Genre: Young adult fiction
Source: Review copy courtesy of Random House via NetGalley