Book Review: Skin Game by Jim Butcher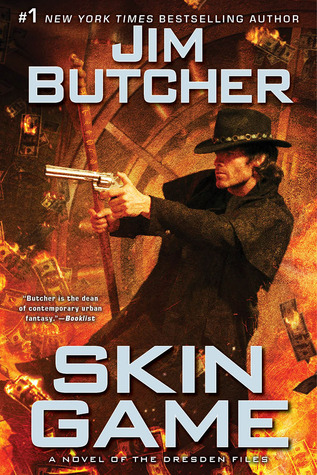 Harry Dresden is back!
Chicago's only professional wizard (or at least, the only one listed in the yellow pages) returns in the 15th installment of Jim Butcher's fast-paced urban fantasy series, the Dresden Files.
Synopsis (Goodreads):
Harry Dresden, Chicago's only professional wizard, is about to have a very bad day….

Because as Winter Knight to the Queen of Air and Darkness, Harry never knows what the scheming Mab might want him to do. Usually, it's something awful.

He doesn't know the half of it….

Mab has just traded Harry's skills to pay off one of her debts. And now he must help a group of supernatural villains—led by one of Harry's most dreaded and despised enemies, Nicodemus Archleone—to break into the highest-security vault in town so that they can then access the highest-security vault in the Nevernever.

It's a smash-and-grab job to recover the literal Holy Grail from the vaults of the greatest treasure hoard in the supernatural world—which belongs to the one and only Hades, Lord of the freaking Underworld and generally unpleasant character. Worse, Dresden suspects that there is another game afoot that no one is talking about. And he's dead certain that Nicodemus has no intention of allowing any of his crew to survive the experience. Especially Harry.

Dresden's always been tricky, but he's going to have to up his backstabbing game to survive this mess—assuming his own allies don't end up killing him before his enemies get the chance….
Clearly, at book 15, this is not a good entry point for Dresden newbies. Sure, you might be able to figure out what's going on — but I doubt it. By this point in the series, the relationships are complex, there's a lot of backstory, and the mythology and world-building are so intricate, with so many interwoven storylines and a huge cast of characters, that there's not much that would make a whole lot of sense coming in cold.
For Dresden fans, however, Skin Game is a delight. Picking up soon after the jaw-dropping events in Cold Days, Skin Game sees Harry thrust right back into action, thrown into a seemingly no-win situation in which he's forced to help an archenemy carry out a crazy dangerous plan with potentially devastating consequences. Still, Harry has no viable way to refuse, and thus embarks on a whirlwind three-day escapade alongside a team of colleagues who mostly can't be trusted. Harry's life is at stake every moment, his friends and loved one are all at risk, he gets broken and bruised — a lot — and above all, Harry has to figure out how to make his way through without endangering everything he holds dear and without turning into what he most fears.
Why do I love Harry Dresden? He's smart, he's brave, he's a total wiseass, and he's just really, really funny. Jim Butcher's writing crackles with energy and humor, even in the midst of bloody action sequences. Harry may get hurt, but he's never completely down for the count. And even in the midst of grave peril, he manages to get off some of the best one-liners and pop-culture references in fiction today.
My only complaint about Skin Game: No Thomas, and not enough Molly*. Other than that, we're treated to a compelling plot, exciting action, forward motion in Harry's ongoing personal drama, and an adventure story that's simply impossible to stop reading.
Plus, we get to meet a Greek god, so there's that.
All in all, Skin Game is a very successful addition to the Dresden body of work. Ongoing readers of the series have to read this one, period.
Some series stick around way past the point where there's anything fresh or interesting to say. Not Dresden. I hope Jim Butcher plans to continue writing about Harry for years to come. If he does, I promise, I'll be there to read the books. All the books. Forever.
And a final word:
Parkour!!**
_________________________________________
The details:
Title: Skin Game
Author: Jim Butcher
Publisher: Roc
Publication date: May 27, 2014
Length: 454 pages
Genre: Urban fantasy
Source: Library
* Oh, wait. One more complaint: We have to wait another year for book #16.
**with special credit and a big smile to my Goodreads friend Emily for reminding me of one of my favorite repeated utterances in Skin Game.