There's nothing like a Wednesday for thinking about the books we want to read! My Wishing & Waiting on Wednesday post is linking up with two fabulous book memes, Wishlist Wednesday (hosted by Pen to Paper) and Waiting on Wednesday (hosted by Breaking the Spine).
My pick for this week is: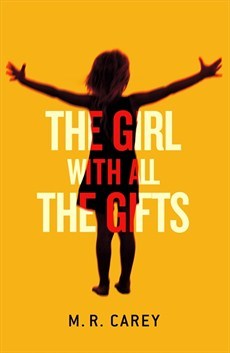 The Girl With All The Gifts by M. R. Carey
(to be released June 10, 2014)
Synopsis via Goodreads:
Melanie is a very special girl. Dr Caldwell calls her 'our little genius'. Every morning, Melanie waits in her cell to be collected for class. When they come for her, Sergeant keeps his gun pointing at her while two of his people strap her into the wheelchair. She thinks they don't like her. She jokes that she won't bite, but they don't laugh. Melanie loves school. She loves learning about spelling and sums and the world outside the classroom and the children's cells. She tells her favourite teacher all the things she'll do when she grows up. Melanie doesn't know why this makes Miss Justineau look sad.
Intriguing? Oh, yeah. Not to mention the fact that this author (writing as Mike Carey) writes The Unwritten graphic novels, which I've been wanting to get to as well.
Fortunately, I was just approved for an ARC of The Girl With All The Gifts, and I'm really looking forward to reading it.

What are you wishing for this Wednesday?
Looking for some bookish fun on Thursdays and Fridays? Come join me for my regular weekly features, Thursday Quotables and Flashback Friday! You can find out more here — come share the book love!

♥♥♥♥♥♥♥♥
Do you host a book blog meme? Do you participate in a meme that you really, really love? I'm building a Book Blog Meme Directory, and need your help! If you know of a great meme to include — or if you host one yourself — please drop me a note on my Contact page and I'll be sure to add your info!