Welcome back to Thursday Quotables! This weekly feature is the place to highlight a great quote, line, or passage discovered during your reading each week.  Whether it's something funny, startling, gut-wrenching, or just really beautifully written, Thursday Quotables is where my favorite lines of the week will be, and you're invited to join in!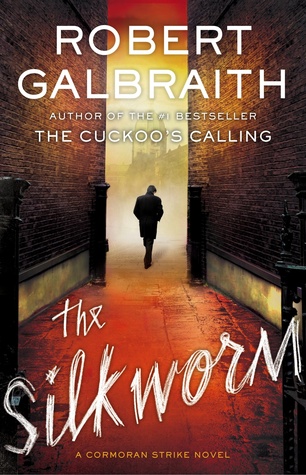 The Silkworm by Robert Galbraith
(published June 24, 2014)
Preoccupied with his own comfort, a mixture of football and murder on his mind, it did not occur to Strike to glance down into the snowy street where shoppers, undeterred by the freezing weather, were gliding in and out of the music stores, the instrument makers and the cafés. Had he done so, he might have seen the willowy, hooded figure in the black coat leaning against the wall between numbers six and eight, staring up at his flat. Good though his eyesight was, however, he would have been unlikely to spot the Stanley knife being turned rhythmically between long, fine fingers.
How's that for creating a mood and building suspense? I'm loving this fast-paced, intricate mystery from she-who-must-not-be-named.
What lines made you laugh, cry, or gasp this week? Do tell!
If you'd like to participate in Thursday Quotables, it's really simple:
Write a Thursday Quotables post on your blog. Try to pick something from whatever you're reading now. And please be sure to include a link back to Bookshelf Fantasies in your post (http://www.bookshelffantasies.com), if you'd be so kind!
Leave your link in the comments — or, if you have a quote to share but not a blog post, you can leave your quote in the comments too!
Visit other linked blogs to view their Thursday Quotables, and have fun!