Welcome back to Thursday Quotables! This weekly feature is the place to highlight a great quote, line, or passage discovered during your reading each week.  Whether it's something funny, startling, gut-wrenching, or just really beautifully written, Thursday Quotables is where my favorite lines of the week will be, and you're invited to join in!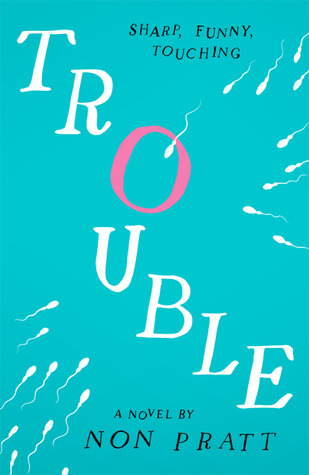 Trouble by Non Pratt
(Published in UK February 20, 2014;
US release date June 10, 2014)

There's a pile of clothes on the floor and I want to jump up and down on them and scream, only I'm worried Mum'll hear and I don't want her to know. Her answer will be to look at those stupid magazines and suggest I try some of the frumpy bump-friendly fashion that I would only wear if I had a brain transplant. I feel like there's something wrong with me — I'm supposed to want to be a different person now that I've been sperminated, but I don't. I want to be Hannah, just pregnanter. What's so wrong with still wanting to look good? With wanting to show off my new improved pregnancy curves in push-up bras and clothes that look teen not tragic? I want people to think Hannah before they think pregnant.
Ah, the fashion crises of a teen mom! But seriously, this story of a pregnant 15-year-old and the boy who befriends her is sad, sweet, funny, and honest.
I just finished the book last night — check out my review here.
What lines made you laugh, cry, or gasp this week? Do tell!
If you'd like to participate in Thursday Quotables, it's really simple:
Write a Thursday Quotables post on your blog. Try to pick something from whatever you're reading now. And please be sure to include a link back to Bookshelf Fantasies in your post (http://www.bookshelffantasies.com), if you'd be so kind!
Leave your link in the comments — or, if you have a quote to share but not a blog post, you can leave your quote in the comments too!
Visit other linked blogs to view their Thursday Quotables, and have fun!